MORE SOUNDS ON

Thunderstorms Instead of Sunshine
Auto-release / Cassette, 40 minutes
TOWA, duo Julie Rousse & Marta Zapparoli
This is the first recording of a duo meant to be.
Marta Zapparoli & Julie Rousse have met for the first time in 2008, on stage in the festival Sonification in Zagreb, in an improvisation ensemble configuration.
Their sonic investigations have much to share : an unconditional love for fieldrecordings, improvisation and distortion. Their organized chaos brings out sincere emotions, oscillating between rhythms and abstraction.
While Marta Zapparoli works with DIY machines and prepared tapes, microphones and analogic self-made devices, Julie Rousse plays with a real-time modular platform on a laptop. But they both use some of the hundreds of fieldrecordings they have collected through the years and travels as a base to their creation.
With Thunderstorms instead of Sunshines they deliver a pure and raw Noise without compromise, lively and in perpetual movement, always playing along the world's sounds with poetic gestures in unexpected places, even in the most violent episodes of this abstract journey.
***

NEW
Décalage Ascendant
Panospria / No Type. PAN 083. Net-Release, 26 minutes
Duo Julie Rousse & Erin Sexton
Unedited improvisation recorded in Paris, France during the summer of 2011.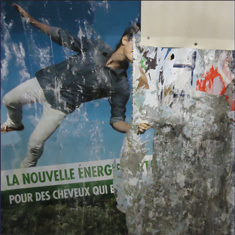 Je Ne Parle Pas Fromage - Musica Experimental y Electronica de Francia
BIODATA - biodata46 (compilation), Netrelease
Julie Rousse : Raging Tooth
Various Artists (Mathieu Garrouste, Anton Mobin, Duncan Pinhas, Franck Vigroux, Zorei, Scorpion violente, Feu Machin, Perrine en Morceaux, Xiuhcoatl, Pascal Battus, Heddy Boubaker...)
Este disco fue compilado por Christian Galarreta para Aloardi, Biodata y Chip Musik. Las fotografias son de Ninguna Ninfula y el diseno de la portada por 051272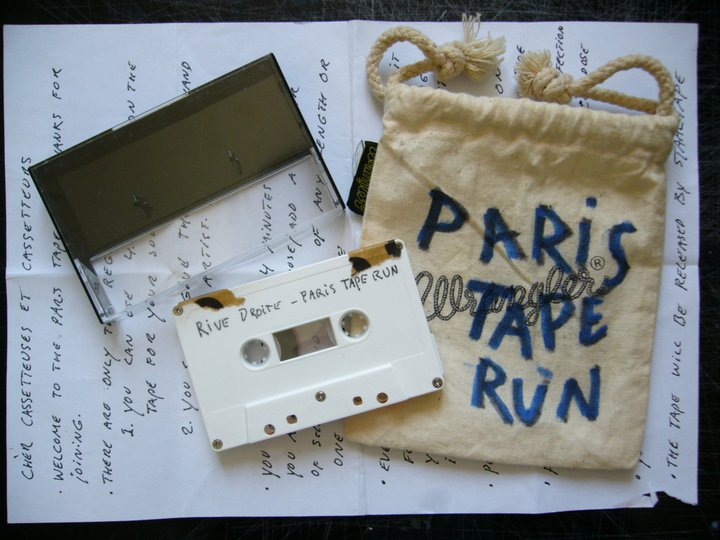 PARIS TAPE RUN 2
StaalTape / Cassette, 40 minutes
Julie Rousse : Mes rêves errent sur des plaines dénudées
Paris Tape Run 2 is recorded on a white chrome cassette of 40 minutes. The cassette is partly covered by coloured paper. The inlay contains a small sticker and a sheet on which are found the titles and basic information. This all is wrapped in white rice-paper and held together by a white or orange or blue or red banderol made of silk paper.
Every single copy of these Paris Tape Run tapes is unique & priceless… If only I'd be able to earn some spare money, as a night porter, for example, or even as a drugs runner, God knows I'd buy all of them - Harold Schellinx in SoundBlog
It presents a slightly unreal quality that I find very enchanting. Or maybe it is a sense of heightened reality, encountering small glimpses of the truth in broken images - Ed Pinsent in The Sound Projector
***
OBSCURE SEASON
TEST TONE MUSIC TTMDL-009 / Free Downloadable Net-release, 42 minutes
Trio Julie Rousse / Kikuchi Yukinori / Usui Yasuhiro
Album Recorded the 15.04.12 , in Parlwr Cafe, Nagoya.
Experimental Music Archive vol.1
an anthology of noise & electronic music #6 / sixth a-chronology 1957-2001
SUB ROSA - SR290 2xCD digipack + 52 pages booklet.
Julie Rousse : Flesh Barbie Techno Fuck

The sixth volume of seven published from 2001 to 2011, curated, noted and edited by Guy Marc Hinant.
So here is the 6th and penultimate installment in our series. As usual, it culls old historical pieces, little-known gems, and even a few previously unreleased tracks from the greatest Japanoise bands, a few representatives of the younger generations (from all around the world), some rare tracks from the '80s, and it all ends with a lull that lets transpire what may be felt as a kind of undefinable mystery.
The Sub Rosa compilations are dotted with a who's who of the electro-acoustic avant-garde from the past century, tossed in with a smorgasborg of previously unknown (and often very interesting) artists as well as contemporary musicians who are well on their way to establishing themselves within the canons of the institutional avant-garde. Sub Rosa has gone out of its way to compile a collection to scramble one's notions of the taxonomic rhetoric that may influence the perception of any of the artists present... (Aquarius)
***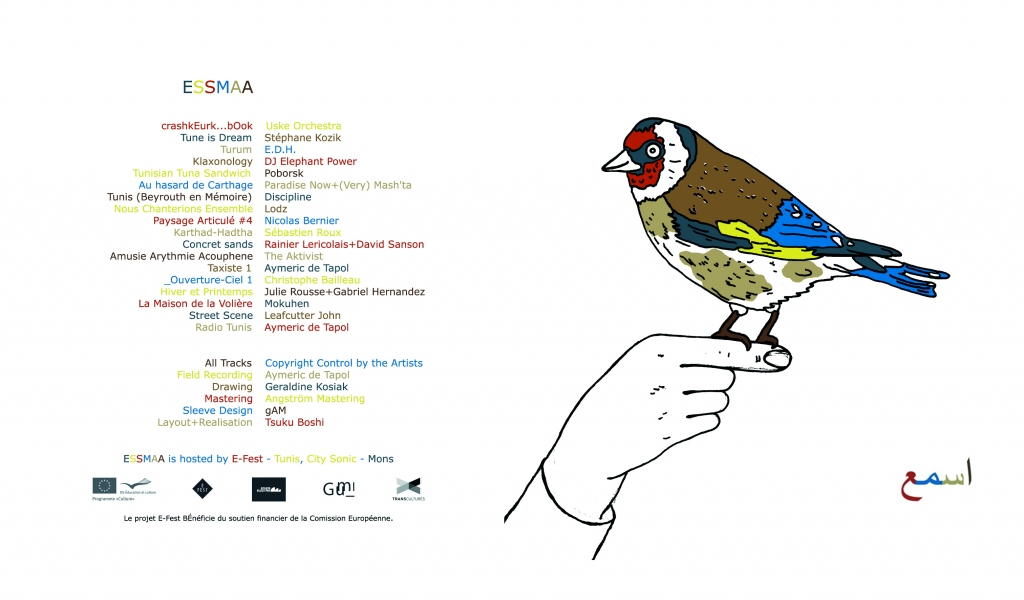 ESSMAA - Tsuku Boshi
TsukuBoshi 06 - 2xCD digipack
The Dead Cats : Hiver et Printemps
Immersion dans les sonorités locales, trouble de la diffusion ou de la compréhension des brides musicales et des stridences quotidiennes, les musiciens internationaux invités au projet ont proposé leur lecture du tissu sonore tunisien.
ESSMAA, ré-écouter les alentours avec ses repères et ses silences , ses sonorités et ses acouphènes. (Double CD sortie Septembre 2010) Compilation offerte dans le cadre du F.E.S.T. (Festival Echos Sonores de Tunis) 2010 et du projet E-FEST initié par l'association Echos Electriques en partenariat avec Transcultures, Gummi Gumi et le Goethe Institut de Tunis (avec le soutien de la Commission Européenne - programme Culture Europe 2007-2013 volet coopération pays tiers).
NO-R-MAL (compilation) /// 2009 /// Julie Rousse : Waterdreams /// Just Not Normal JNN050 - 4xCD - WEB
L'Année de l'Empereur /// 2008 /// Julie Rousse : Solo /// P.M.S. records - PMS05 - CDR
Orchestre de Granulation : ensemble d'improvisation /// 2006 /// No Type - NT086 - WEB
Dhomontèlements (compilation) /// 2006 /// Julie Rousse : AvatArSons Remix /// No Type - NT082 - WEB
Tout doit disparaître /// 2006 /// Komsomolsk /// PMS Records - PMS04 - CDR
Des restes Humains /// 2005 /// Con-V NetLabel /// CNV11 - WEB
Rêve(s) /// 2005 /// Julie Rousse :: Solo /// P.M.S. records - PMS03 - CDR
Radionucléïdes /// 2004 /// Komsomolsk /// P.M.S. records - PMS02- CDR
Quelques minutes sur les bienfaits de la guerre /// 2003 /// Julie Rousse :: Solo /// P.M.S. records - PMS00 - CDR
Foundation - Sine Fiction vol. 4 /// 2003 /// Julie Rousse :: Solo /// No Type - NT073 - WEB
The Freest of radicals (compilation) /// 2002 /// Julie Rousse : Une à six idées improvisées /// No Type - IMNT 0201 2xCD